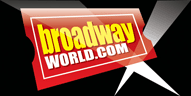 REVIEW | 'ROMANCE ROMANCE'
Romance, Romance
Taking Center Stage Again
By MICHAEL DALE
Published: March 5, 2007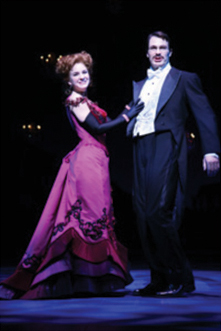 Jessica and Matt Bogart
Regrettably lost in the shuffle during a 1987- 88 Broadway season that included
Into The Woods
and
The Phantom of the Opera
, Keith Herrman (music) and Barry Harman's (book and lyrics)
Romance, Romance
, now being revived at The Paper Mill Playhouse, is a flirtatious jewel box of a musical full of lively tunes, frisky lyrics, sly humor and leading roles (originated by then little-known Scott Bakula and Alison Fraser) that give star performers plenty of chances to glitter.
Though no hit songs came out its eight-and- a-half month Broadway run, the score contains some real beauts. The infectiously giddy polka, "I'll Always Remember The Song" and the perky Dear-John-letter-in-a-song, "Goodbye Emil" both have grandly theatrical lyrics and the passionate "Words He Doesn't Say," recounting the loss of little moments that dissolve a romance, certainly has pop hit potential for audiences with attention spans. Unfortunately, this production does not include the show's vibrant and peppy title song, originally sung after the curtain calls as a bit of an encore. I don't know if dropping this catchy tune has habitually been done after the show left Broadway, but as the authors were there on opening night I suppose they're not as disappointed with the omission as I am.
Split into two separate one-act tuners, Act I, based on a short story by Arthur Schnitzler and set in turn of the 20th Century Vienna, finds upper-cruster Alfred (Matt Bogart) tired of the money-hungry women he meets in society so he sets out to find someone who can love him for himself. Naturally, he does so by lying. Putting on his least impressive threads, he poses as a struggling poet with limited means and even less talent. Meanwhile, the aging Josefine (22!) finds that the wealthy man who has been keeping her has been spending time with a younger woman, so she goes off, disguised as a modest seamstress, to find a mate who can impress her with sensitivity and artistry instead of money. (Bogart's new bride, Jessica (nee Boevers) Bogart plays the role) Naturally they find each other and as lies mount upon lies both are faced with the inevitable reality of what will happen when the truth is revealed.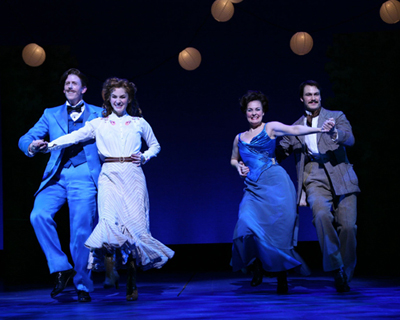 Mark Ledbetter, Jessica Bogart, Danette Holden and Matt Bogart
Act II, based on a play by Jules Renard, brings the Bogarts to modern times (small changes have updated the act to 2007) as best friends, married to others, who share a summer home with their respective spouses. Left alone together one romantic evening, the two start wondering what might happen if their innocent flirting ever turned into a night of passion.
Director/choreographer Mark S. Hoebee's production is visually quite lovely. Set and costume designer David Zinn bathes the stage in a sumptuous blue, suggesting sky in the first act and sea in the second. Pretty little touches are modest, but sweetly displayed under Jeff Croiter's soft and pleasing lighting. Zinn's Act I period costumes complete the romantic picture, while those in Act II are appropriately casual.
In their leading roles, Matt and Jessica Bogart seem a perfectly sweet, attractive and very likeable couple. And that's a big problem. There's no bite. The wry humor of Harman's book and lyrics rarely surface in their Viennese pair, as both characterizations lack the spark of world-weary intelligence that makes them funny. Both are in fine voice, but Matt Bogart lacks swagger and dash while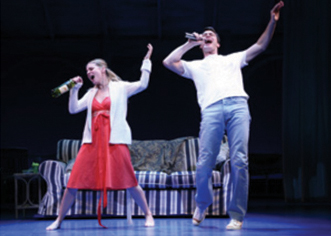 Jessica and Matt Bogart
Jessica Bogart seems far too girlish when a woman's touch is necessary. As the sexually attracted friends in Act II, they manufacture no heat, seeming far too comfortable with one another. The sense of danger that keeps the story moving is completely missing.
On the flip side, supporting players Mark Ledbetter and Danette Holden are quite interesting nearly every moment they're on stage. As a silently dancing couple that weaves through Act I, they look positively luminous in Zinn's blue formal wear that matches the set, swirling with graceful maturity and understated sensuality. As the Bogarts' respective spouses in Act II, Ledbetter seems full of natural ease with steely eyed, mellow voiced masculinity, while Holden's knockout belt and comic phrasing is smart and sexy. Their duet, "Think Of The Odds," where the two ponder the possibility of their spouses' infidelity, is the most vocally exciting song of the evening. Perhaps a third act can be centered on them.