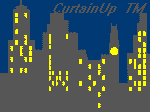 REVIEW | 'ROMANCE ROMANCE'
Romance, Romance
By SIMON SALTZMAN
Published: March 5, 2007
What do high society lovers in turn-of-the-century Vienna have in common with their equally romantic contemporary counterparts in a beach home in the Hamptons? That is what composer Keith Herrmann and author/lyricist Barry Harman seek to reveal to us in their lilting and swinging two-part musical
Romance/Romance
now receiving a disarming and handsome production at the Paper Mill Playhouse. Originally produced in 1988 Off-Broadway, the small-scaled musical received excellent notices and made the move to Broadway where it enjoyed a respectable 8 ˝ month run. It also defined its female lead, Alison Fraser, as "the toast of Broadway" (a once common term for a notable musical theatre discovery).
May I respectfully submit that in this appealing production, Jessica Bogart is worthy of toast-hood, even if it only means being the toast of Millburn, NJ. Her co-star Matt Bogart (to whom she is wed in real life) is equally deserving of accolades for helping to make this show a total delight. Weightier in lyrical innuendo than dance or deed, the intimate four-character musical study of dalliances by design is divided into two distinct mini-musicals.
In the first part,
The Little Comedy
(based on a short story by Arthur Schnitzler), a debonair gentleman and an attractive demimonde, two sophisticates with more than a touch of ennui, feel the need to discover romance without the frills. The plot is nothing more than a whimsical game of slumming for a pair of socialites, both despairing of their endless, pointless dalliances with the upper crust. Of course, they pose as commoners. M Bogart, disguised as a poet, meets Josefine, who is disguised as a shop-girl. They meet on the boulevard, fall immediately in love, and proceed to carry on their charade, neither suspecting the other. It is for us to discover how craftily and amusingly these two high society sophisticates sustain their little fantasy affair over 19 days and night, and then face the real music.
Herrmann's lilting score boasts a decidedly frothy fin de siecle sensibility fused with a contemporary musical spirit. The giddy and frothy suggestion of Vienna in the good old days is the starting prescription for a cast that knows how to uphold at all cost a sense of wicked insouciance. The musical is cheekily embroidered by having the characters reveal their true feelings in spoken-aloud letters to city friends. Ledmetter and Holden as a conspicuously invisible "him" and "her" and a couple of supporting characters, whirl, twirl and polka through the elegance of David Zinn's fanciful settings. The costumes are also designed by Zinn, with the gorgeous gowns in the first part are knockouts.
In the second part, Summer Share, (based on the play Pain de Menage by Jules Renard), the same cast is called upon to be more up-front with the vexations of modern-day marriage and the potential for adultery. In it a quartet of married friends shares a Hamptons beach house and a few dangerously indiscreet thoughts. They are presumably enjoying a completely platonic intimacy. The trouble is that Sam (M. Bogart), who is happily married to Barb (Holden), Monica (J. Bogart), who is happily married to Lenny (Ledbetter) are suddenly amorously moonstruck. Here Herrmann's music turns to soft rock for its statements on contemporary flirts and flirtations, as the lovers try to consider the implications of "Small Craft Warnings" over the airwaves.
The balance of styles is a tall order that is well supplied by the splendid performers who have the musical sophistication to successfully bridge the gap in time and temperaments. M. Bogart, a Paper Mill favorite (Billy in
Carousel
and Lancelot in
Camelot
) is tall, comely and sings impressively. He displays the required panache in the role of Alfred, the Viennese playboy in the altogether beguiling
The Little Comedy
. He brings to the contemporary role of Sam, the married husband in
Summer Share
the just right energizing, personality-plus lift. He is perfectly aligned in both of these wittily conceived and staged confections with J. Bogart (their chemistry is palpable), whose effervescent charm is augmented with a slightly audacious attitude that proves intoxicating. J Bogart (nee Boevers), who has graced numerous Broadway musical including the otherwise infamously ungraceful
In My Life
, proves equally seductive in two centuries.
Mark Ledbetter and Danette Holden provide both dance and dramatic embellishments worthy of a chorus of 50. They get their moment to provide some amusing comedy when imagined by their respective spouses as cavorting geriatrics, he with a cane and she with a walker.
The wryly clever ways in which "Romantic Notions" are exercised and exorcised will leave you romantically connected with characters whose willpower appears as fragile as we know our own to be. If you let it,
Romance/Romance
, under Mark S. Hoebee's light and breezy direction, will sweep you off your feet.