REVIEW | 'ROMANCE ROMANCE'
Something Old, Borrowed and Nothing Blue About It
By NAOMI SIEGEL
Published: March 25, 2007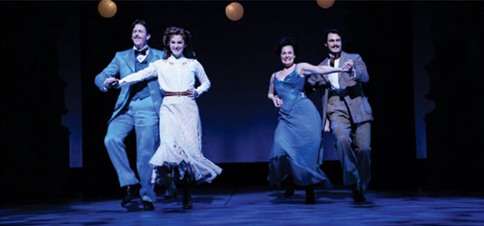 TWO-SOMES Performers Mark Ledbetter, left, Jessica Bogart, Danette Holden and Matt Bogart
photo by Gerry Goodstein
"Romance/Romance," a theatrical bonbon with book and lyrics by Barry Marman and music by Keith Hermann, shifts mercurially between sweet and tart in its current stylish production at the Paper Mill Playhouse.
Two one-act chamber musicals linked by a common theme, the work received five Tony nominations in 1988. The subject is love - passionate, feverish, cynical and hurtful - laced with entangling liew and truths that cannot be denied.
"The Little Comedy," a mannered operetta based on a short story by Arthur Schnitzler set in fin-de-siécle Vienne, opens the evening. It is followed by "Summer Share," based on Jules Renard's 1898 short play "Le Pain de Ménage" transposed to the Hamptons, circa 2007.
One has a sense of having heard and seen this all before; "The little Comedy" is reminiscent of "A Little Night Music" by Sondheim, and "Summer Share" recalls Donald Margulies's "Dinner with Friends." Yet there remains a quite pleasure in this "Romance/Romance" under Mark S. Hoebee's elegant direction. Much credit goes to the musically rich, synergistic performances in the leading roles by Matt and Jessica Bogart, dynamic performers who were recently married.
In "The Little Comedy," they play Alfred Von Wilmers and Josefine Weninger, Schnitzler's bored and vacuous Viennese socialites who seek love in all the wrong places by posing as paupers. Their sexual sizzle is amusingly tempered by Victorian conventions. Repressed desire is a powerful force here, and these two light all the right jets.
Moving on to "Summer Share," the more compelling and engaging of the two works, the team is unbeatable.
Playing Sam and Monica, best friends married to others, they turn flirting into an art form. Alone in the living room of the Hamptons share house the two couples have rented — David Zinn's smartly functional set does effective double duty in both acts of the show — Sam and Monica start out extolling the virtues of their spouses, Barb and Lenny, but end up engulfed by their passion for each other.
Counterpoint is provided by the poignant ballad "Small Craft Warnings," in which the hovering Barb and Lenny, played tenderly by Danette Holden and Mark Ledbetter, send the restless spouses a marriage alert with the ominous admonition, "Sailors beware, ill winds prevailing, you better take care."
Monica's tormented soliloquy "How Did I End Up Here?" questions her precipitous fall into a lovesick malaise; Sam's self-justifying anthem "Words He Doesn't Say," criticizes Lenny for not telling his wife, Monica, what she wanted to hear.
These songs, among the most lyrical and moving of the Harman/Herrmann score, are eloquently performed by the excellent cast — reason alone to catch this filling, if not nourishing, confection.