HEADLINES | "ROMANCE ROMANCE"
Romance, Romance Provides a Standout Showcase for Broadway's Jessica and Matt Bogart
By BOB RENDELL
Published: March 5, 2007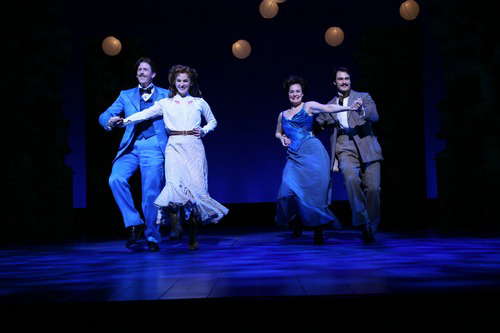 Mark Ledbetter, Jessica Bogart, Danette Holden and Matt Bogart
Little more than a year ago, charming young musical comedy actress Jessica Boevers was on Broadway. This past summer, Ms. Boevers married fellow Cincinnati Conservatory of Music graduate and Broadway performer Matt Bogart. Happily, things are looking bright for this attractive theatrical couple. Assuming her newly minted name, Jessica Bogart and her husband are appearing to great advantage in the felicitous new Paper Mill Playhouse revival of Keith Herrmann (music) and Barry Harman's (book and lyrics) 1988 Broadway success Romance/Romance. This intimate musical is an excellent showcase for the couple's considerable talents and on stage chemistry.
Romance/Romance is comprised of two diverse one act musicals, each of which examines the rituals of courtship. It is designed for four players with the two leads (Jessica and Matt Bogart) playing the lovers in each musical, supported by the other pair of players (Danette Holden and Mark Ledbetter).
The longer, more substantial and richer of the two, "The Little Comedy" is based on a short story by the redoubtable Arthur Schnitzler, best known to American audiences for his plays La Ronde and The Affairs of Anatole, the basis for the Dietz-Schwartz musical The Gay Life. The setting is Vienna at the end of the nineteenth century. Alfred is a rich but dour, single reprobate who has become bored of loveless affairs with mercenary women of his own class whose only interest is to land a man of appropriate status for the maintenance of their financial and social positions. Josefine is a well off, elegant woman of pleasure at the end of yet another affair, who is tired of her lifestyle and is fraying at the edges. With the hope of finding genuine romantic fulfillment, each dresses down and heads out for a walk among the bourgeoisie. Of course, they meet each other. Alfred pretends to be a struggling poet, while Josefine presents herself as a humble, poor shop girl employed in a hat shop. Each falls in love with the other, or to put it more specifically, the other's assumed false persona.
"The Little Comedy" has an elegant, lithe story theatre quality as Alfred and Josefine relate events in the letters which each writes to a friend abroad. Still, as the string is played out, a cynical, sophisticated take on our lovers emerges rather than the confectionary bonbon which the scenery, costumes, lighting and music have promised. This purposeful dichotomy illuminates and informs as it provides pleasure.
Keith Herrmann's truly beguiling music is complemented by Barry Harmon's gently incisive lyrics. The songs are often in the form of revelatory monologues delivered serially by the lovers, and then in duet as they draw to their conclusion. Particularly lovely are "It's Not Too Late," in which the soon to meet lovers each sing of their longing for true romance; the lively and lilting polka "I'll Always Remember the Song," in which they recount their joy at the band concerts in the park; and the Sondheim-esque opening and closing title song of this one act musical.
After the intermission, we are greeted momentarily by the elegant music and mood of "The Little Comedy", only to have the mood shattered by a raucous rock beat and neon signs to inform us that the setting for "Summer Share," a very loose updating of an 1899 play by the French Jules Renard, is contemporary. Longtime best friends Monica and Sam have taken a vacation beach house in the Hamptons, along with their respective spouses, Barb and Lenny. The question is whether Monica and Sam, each somewhat neglected by their spouses and past the passionate phase of their marital relationship, will have an affair. Possibly because every line in the play is concerned with this question, we do not have any sense of three-dimensional people about whom we might care. Structure is lacking as each incident, discussion and song feels arbitrarily introduced. Although it seems clear from very early on as to what Monica and Sam would or would not do, their behavior does not rise organically from either character or situation.
The best song and most delightful moment in "Summer Share" is an up beat, contemporarily styled reprise for Sam and Monica of the first act "It's Not Too Late." The concluding "Romantic Notions" has a strong melody, but neither the lyric nor the text preceding it ring emotionally true.
The contrasting musicals within Romance/Romance provide wonderful opportunities for the lead players to demonstrate their prowess. Matt Bogart's contrasting performances as Alfred/Sam are both excellent. It provides much pleasure to watch his burnt out fin de siecle satyr in "The Little Comedy" morph into a handsome all-American hunk in "Summer Share." Jessica Bogart's Josefine/Monica contrasts operetta style charm and delicate beauty with modern aggressiveness, confusion and frustration. The singing of both is excellent throughout.
Mark Ledbetter and Danette Holden principally provide smooth, decorative waltzes in the first act. In the second act, they convincingly portray the concerned Lenny and Barb. Their duet "Small Craft Warnings" is a second act highlight.
All production elements are first rate. David Zinn's flexible scenic design features a richly blue colored onstage arch, and is abetted by his colorful period costumes and Jeff Croiter's lushly delicate lighting. Director Mark S. Hoebee has staged the package smoothly and clearly, eliciting richly detailed performances.
Paper Mill has filled its late winter slot well with a first rate, full scale production of the entertaining intimate musical Romance/Romance.