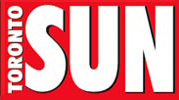 THEATER REVIEW| "THE DROWSY CHAPERONE"
Drowsy Chaperone
- A Crowd-Pleaser
By JOHN COULBOURN
Published: September 25, 2007
International borders notwithstanding, it's certainly not uncommon for Toronto's elite to send their daughters off to New York to acquire a bit of polish.
Or a lot of polish, as is the case with The Drowsy Chaperone, the beautiful but heretofore none-too-bright musical theatre brainchild of composer/lyricists Lisa Lambert and Greg Morrison and writers Bob Martin and Don McKellar. The made-in-Toronto musical returned to the local stage for the fourth time Sunday night, trailing a string of Tonys in its wake.
Coincidentally, Drowsy's glitzy return to the Elgin Theatre also marks a stellar launch for DanCap Productions, a nothing-if-not-determined new player on Toronto's struggling commercial theatre scene.
Happily, Drowsy's return would also appear to be a good-news/good-news situation for Toronto theatre fans.
The good news for those who simply loved, loved, loved the show in any of its earlier Toronto incarnations -- at the Rivoli, the Fringe, Theatre Passe Muraille or the Winter Garden Theatre -- is that this is recognizably the same show. It's still a silly souffle of a send-up of old-time musicals, hosted by local boy Bob Martin, otherwise known simply as the faintly creepy Man In Chair. Martin, whose marriage to Janet Van De Graff in fact spawned the 40-minute first edition of Drowsy, has parlayed his character into a Tony-nominated performance that has apparently proven pivotal to the show's success.
The good news for those who were a little less enthusiastic about Drowsy's earlier Toronto incarnations is that, thanks to some massive rewriting and some major massaging by director/choreographer Casey Nicholaw, The Drowsy Chaperone may not yet be the show it has always aspired to be, but it certainly is a lot closer -- and a certified crowd-pleaser, to boot.
That's largely due to Nicholaw's ministrations. Not only has he reshaped the story, he has recruited some impressive onstage and backstage talent to join Martin and help sell the story along the way.
This is an impressive array of singers and dancers, led by Georgia Engel, rechanneling The Mary Tyler Moore Show's Georgette to maximum effect and recapping her Broadway performance as the bubble-headed Mrs. Tottendale.
There's also some pretty impressive work from Andrea Chamberlain and Mark Ledbetter as the nuptial couple (the stage versions of Janet Van De Graff and Robert Martin)
, from Marla Mindelle as Kitty and from Nancy Opel as the tippling sleepy duenna of title.
Adding their talents from behind the scenes, there's impressive work as well from designers David Fallo (sets), Gregg Barnes (costumes) and Ken Billington and Brian Monahan (lights) -- all of whom do their damndest to disguise the fact that from a theatrical perspective, they've got a whole slew of angels dancing on the head of a pin-sized story.
Not all of Nicholaw's massaging has proven therapeutic, however. While most anyone will applaud the way he has fleshed out the characters and otherwise pumped up the overall pizzazz, those who enjoyed the lame-brained gangsters that were, for many of us, one of the highlights of the earlier incarnations of the show are certain to be bemused, or at the very least puzzled, by what this new treatment does to them. Under Nicholaw's tutelage, Paul and Peter Riopelle turn the characters into a Tweedle-dum and Tweedle-dumber routine that leaves them looking like refugees desperately seeking asylum from a cut-rate Christmas panto.
There's no doubt that The Drowsy Chaperone has picked up more than mere party tricks and prizes in her New York sojourn, and while the results are truly impressive, she still has to rely as much on the goodwill of her audience as her natural charm.
She may do a delicious job of sending up shows such as My One And Only and Anything Goes, but finally, even a sojourn on the Great White Way failed to teach The Drowsy Chaperone to throw away a silly little tune with the grace and style of Cole Porter or the Gershwins.