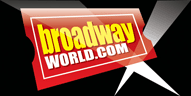 REVIEW | �MARY POPPINS�
Mary Poppins
Launches New Dunfield Theatre Cambridge
Published: March 8, 2013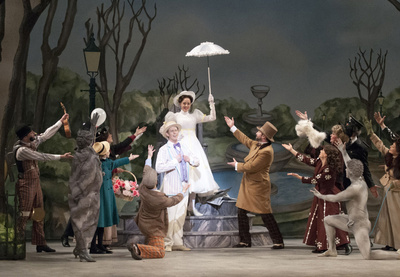 Mark Ledbetter (Bert), Jayme Armstrong (Mary Poppins) and the Cast of
Mary Poppins
in the launch of
Mary Poppins
at the Dunfield Theatre Cambridge.
The world's most magical musical has landed in Cambridge to launch Canada's newest performing arts centre. The Drayton Entertainment production of Disney's and Cameron Mackintosh's Mary Poppins delights audiences now through April 28th at the new Dunfield Theatre Cambridge.
"The iconic characters, memorable music, and timeless story are brought to life by an all-star cast of outstanding performers," says Artistic Director Alex Mustakas. "The production speaks to all generations of theatregoers, and the reception by audiences has been fantastic."
This turn-of-the-century tale unfolds in London, England at the home of George and Winifred Banks, on Cherry Tree Lane. Life is anything but perfect for the Banks family as they search for the ideal caregiver for their two unruly children, Jane and Michael. But things soon begin to change when a mysterious young woman appears on their doorstep and inevitably weaves her way into their lives and hearts.
Mary Poppins, a peerless nanny with a penchant for magic, leads the children on memorable adventures and along the way teaches the entire household an invaluable lesson - anything can happen ... if you let it.
One of England's most sought-after directors, Nigel West brings an impressive pedigree consisting of major productions in London's West End. West's staging brings this treasured story to life with all the charm and exuberance that audiences expect from Disney's enchanting musical.
He is joined by fellow Londoner Leigh Constantine, a gifted choreographer whose lively renditions of "Step in Time" and "Supercalifragilisticexpialidocious" are just two of the show-stopping numbers in this dynamic production.
Paramount to the success of this production is the performance of Jayme Armstrong as the "practically perfect" nanny. It is a difficult role - one that is synonymous with the iconic Julie Andrews. However, Armstrong makes the role her own, as her beautiful voice, inner spark, and obvious rapport with the children are a joy to behold. Her performance is simply magical.
Mark Ledbetter makes his Drayton Entertainment debut in this lavish production as the affable chimney sweep, Bert. With a mischievous glint in his eye and a bounce in his step, Ledbetter brings the right combination of charisma, unbridled enthusiasm, and touch of eccentricity to the role. Ledbetter frequently performed the role on Broadway, and his past experience serves him well.
The household patriarch and finance worker, George Banks, is convincingly portrayed by James Kall. Many of the production's major themes ultimately hinge on the transformation of his character, who must progress from an emotionally distant father preoccupied with work to a contented family man who prizes his wife and children above everything else.
Jackie Mustakas mines great emotional depth in the role of Winifred Banks, a former actress who struggles to find happiness in a troubled marriage. Her heartfelt soliloquy "Being Mrs. Banks" resonates with authenticity.
The mischievous children in this transformative tale are earnestly portrayed by four incredibly talented youngsters. Avery Kadish and Hadley Mustakas share the role of Jane Banks, while Trek Buccino and Jayden Greig take turns as Michael Banks. The actors alternate performances throughout the eight-week run. Much credit must be given for the depth of their performances, which require their characters to morph from privileged brats to endearingly empathetic young people.
Many Drayton Entertainment favourites are also part of this remarkable cast including Keith Savage who brings brilliant comedic timing to multiple characters, with great effect.
Rebecca Poff creates great fun onstage as the mystical Mrs. Corry, who unleashes one of the most unforgettable numbers in the show with an upbeat "Supercalifragilisticexpialidocious".
Karen Wood is suitably shrill as the old battleaxe Mrs. Brill, the Banks' headstrong cook and Jayne Lewis revels in the nastiness of Miss Andrew, nasty Mr. Banks' thick-skinned childhood nanny.
Gregory Pember adds to the production as the Banks' odd-job man, Robinson Ay and TEd Simonett is the Banks' friendly neighbour and naval officer, Admiral Boom.
Karen K. Edissi, Ryan Gifford, Sarah Harries, Jessica Horn, Chad McFadden, Sarah Matton, Jason Sermonia, Patrick Stiles, Jen Taylor and Arthur Wright round out an impressive ensemble cast.
Music Director Elizabeth Baird oversees a talented orchestra that elegantly lays the foundation for every scene and performs the musical's signature tunes like "A Spoonful of Sugar", "Chim Chim Cher-ee," "Let's Go Fly a Kite" as well as memorable new numbers like "Practically Perfect" with precision and fortitude.
New York City Set Designer Christine Peters has conceived stunning drops that add depth and detail to every scene. The Banks homestead on Cherry Tree Line is a remarkable accomplishment in construction, and is testament to the skill of Drayton Entertainment's production department.
Costume Designer Rachael Berchtold has thoughtfully invoked the Edwardian London era into each character's wardrobe. The Lighting Design by Kevin Fraser highlights the light and frothy elements of this production, but also captures the dab of social commentary.
This mood is further enhanced by the digital projections designed by Dan Payne. An innovative partnership with Christie Digital Systems Canada Inc. will see the company provide many visual technology solutions that will be used in theatre productions such as Mary Poppins.
Mary Poppins, the musical, is based on the similarly titled children books by P. L. Travers and the 1964 Disney film. The original West End production opened in December 2004 and received two Olivier Awards, one for Best Actress in a Musical and the other for Best Theatre Choreography. Mary Poppins made its Broadway debut in November 2006. It received even Tony Award nominations, including Best Musical, winning for Best Scenic Design. The show ran for more than 2,600 performances when it closed earlier this week.