REVIEW | 'MARY POPPINS'
Mary Poppins
production launches new theatre
By Valerie Hill
Published: March 8, 2013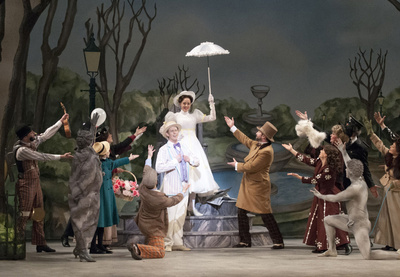 Mark Ledbetter (Bert), Jayme Armstrong (Mary Poppins) and the Cast of
Mary Poppins
in the launch of
Mary Poppins
at the Dunfield Theatre Cambridge.
The pressure was on this week for cast and crew of Mary Poppins, in the inaugural production at Drayton Entertainment's new Dunfield Theatre.
The long lead up to the opening of this new theatre space has been anticipated both for the venue itself and the first show to grace its stage. On both counts, theatre and show are winners.
The theatre, located on Grand Avenue in historic Galt, provides ample parking and the reception area is large enough to contain thirsty theatre goers without having to elbow their way to the bar. Seats in the auditorium are spacious and comfortable, with plenty of leg room and the acoustics are superb though the music, piped in from a separate musician's room, was a tad loud.
This production deserves much praise particularly in the choice of Jayme Armstrong as Mary Poppins. Armstrong seemed to channel the iconic character right down to the way she holds her tiny feet turned out in that distinctly Mary Poppins angle. As Armstrong flew across the stage hoisted by cables, her umbrella in full furl, she was Mary Poppins, perfect in every way.
The story, made famous in the 1964 Disney movie and later in the London stage adaptation, has Mary appearing just as the children's last nanny quits and they prepare their own list of must haves for a new nanny. Mary, however sweet she might be, has rules and expects to be obeyed though the children are not ready to comply.
The underlying story here of course is the children's unhappy parents, their mother Winnifred Banks, played elegantly by Jackie Mustakas, and George Banks, a banker who was raised by a hateful nanny and who himself has grown into a bitter man who avoids his children at all costs.
George is played by Drayton regular, James Kall. As George he is the most multi-faceted character on stage, first portraying the cold, in-control banker who, after making a bad business decision, is about to lose his job. This twist of events sends George into a downward spiral and he crumples into a broken man, dishevelled and discouraged.
Kall plays this part with perfection, particularly at the end when he learns that life is about love, about what he had previously rejected as frivolous. He is suddenly as giddy as a schoolboy and the scene of him dancing around the bank's chairman and the equally stiff minions is hilarious.
The rebellious Banks children, played alternately by two sets of youngsters, are on stage for most of the performance and the kids for opening night: Hadley Mustakas as Jane and Trek Buccino as Michael are exceptional. Both have strong, clear singing abilities and adeptly portrayed children who are emotionally distant from their parents.
Mark Ledbetter as Bert the starving artist/chimney sweep has less time on stage, but he certainly isn't a lesser character. Most memorable in this stage adaptation is the sweet, tender connection between him and Mary, a whisper of a romance that can never be anything more. Ledbetter is superb in the part having understudied and played Bert in the Broadway production.
Woven throughout all these characters is Keith Savage as a chimney sweep, a park gate keeper and a German businessman, a character who pops up here and there throughout the show like a whack a mole game, always surprising, always delighting.
Karen Wood as the family's cook expresses just the right mix of fussiness and comic timing, while Jayne Lewis in the duo role of the bird lady and George's childhood nanny, Miss Andrew has a voice that just knocks your socks off. At one point, Miss Andrew tries to muscle in as the children's nanny only to face a determine Mary. The two have a dueling banjos-style sing off, one of the funniest scenes in the production.
Rounding out the success of this show are the superb costumes by Rachel Berchtold who did a stunning job with Mary's beautiful outfits.
As in all Drayton's musicals, the ensemble cast are exceptional, this time under the direction of British choreographer Leigh Constantine, a colleague of the show's director Nigel West. Constantine has created two major dance numbers, a cancan and the chimney sweeps' tap sequence and both are equally mesmerizing.